St Judes Church, Portsmouth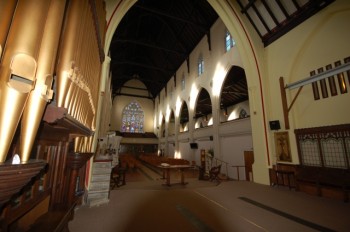 Quantity Surveying and Project Mangement Services on this £900k project with a 45 week construction programme.
Located within the busy centre of Southsea, the project included a refurbishment and extension to form a flexible space as an entrance area, meeting space and lounge.  The extension is constructed of matching stone and extensive glazing features with Green Roof.
The project required the repositioning of the church organ, plus the formation of new kitchen facilities within the ground floor of the church.
This was followed by further alterations within the ground floor in preparation for the creation of further flexible meeting areas, together with altering existing accommodation to suit the newly extended ground floor.
Click image to enlarge and use your back button to return to this page
Main Contractor:- Farnrise Construction Ltd, Southampton