Tideway School, Newhaven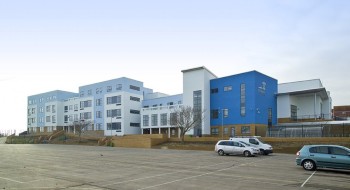 End User Contract Administration for ESCC on Tideway School in Newhaven, East Sussex, which was totally rebuilt following a devastating fire. The school operated continuously during the construction phase by the use of a small village of mobile classrooms. Project value £11m.
The new school retained some of the original structures to reduce construction costs, but these were totally refurbished both internally and externally to create a new single building over four floors all connected by a central atrium to replace a number of separate widely spaced buildings dating back to the middle of the last century.
The school is built to high specification and includes a number of renewable energy features, including rainwater harvesting.